free worldwide shipping |
-10%
|
-12%
with bitcoins
Carburetor jet kit | made by Dynojet USA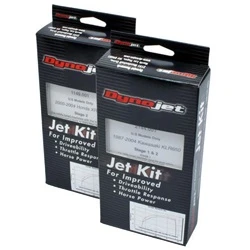 Dynojet kits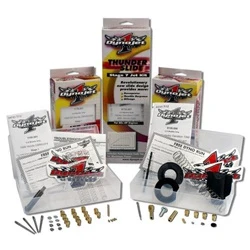 Dynojet kits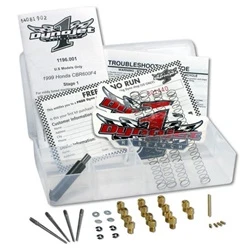 Dynojet kit
Dynojet carburetor kits increase your engine's power and acceleration.

The difference in performance is due to the patented Dynojet fuel needle, which thanks to its sharper shape and provision for adjustment generates better fuel flow to the engine.
The first thing you'll notice after installing a Dynojet kit is that your engine revs up must faster than before.

Kits contain graduated fuel needles, different series of jets, washers, cotter pins, springs and drill bits for cases where the hole on the slide assembly must be enlarged.
Depending on the needs served by each kit, fuel needles may be aluminum, titanium or steel.
Clear instructions (Italian and English) are included in all packing for easy setting.

Dynojet carburetor kits are available in two different stages.

Dynojet kit stage 1
Stage 1 is used with the stock engine and stock air-box.
Designed with different calibrations (all included in the kit) for stock air filters, K&N / Sprint Filter air filters, stock pipe, stock manifolds with racing mufflers or complete racing exhaust system.
Power increase is approximately 5%.

Dynojet kit stage 2
Stage 2 is intended for motorcycles with a stock or mildly tuned engine using a well designed aftermarket pipe with a modified airbox and K&N / Sprint Filter air filter.
Stage 2 kits are designed for applications where individual filters cannot be installed and for applications where airbox modification improves the engine's performance.
In most cases power increases of approximately 8% can be achieved.

For higher efficiency, we recommend that Dynojet carburettor kits be installed with the associated K&N / Sprint Filter air filters.

Suggestions
Always check the enclosed parts list if you have doubts concerning the components contained in your Dynojet jet kit.

Carry out operations exactly as described in the instructions: failure to do so is almost certain to affect performance adversely.
Don't worry if the main jet size called for in the instructions seems wrong: always install the specified size.
Note that the Dynojet instructions use the terms "non-original pipe " or "aftermarket or slip-on with high flowing baffle" to designate the exhaust pipe complete with manifolds.
If you have replaced only the muffler, adjust jetting as if the stock muffler were still installed.
Adjust the air screw to idling, following the instructions schedule contained in the kit.

If you have a CO meter, remember to adjust the air screw, so to have a CO value between 3 and 5.
Application list
Hi there!
I got my package today.
Now i hope it fits on my Kawasaki Z900 😁
Thanks for excellent service👍🏻
I promise i coming back again for more shopping.
Best regards
J. L. | Sweden 2023-03-28
RED Racing Parts®™
Casella Postale 704 - 18100 Imperia (IM) - Italy
info@redracingparts.com
VAT No. IT01130260084 | REA IM-93869
Site developed by John
Copyright © 1995-2023 | All rights reserved