free worldwide shipping |
-10%
|
-12%
with bitcoins
About Us
The origins
Our Mission at RED Racing Parts is to "provide our Customers the quality parts to customize their own motorcycles as they desire".
The will of establishing RED Racing Parts began in late 1994.
The concept was developed for motorcycle passion.
We wanted an online world wide store that assured its Customers received all the technical parts to make their custom motorcycles Extra Special.
RED Racing Parts was founded on July 26,1995 and continues to grow bigger every day thanks to our loyal world wide Customers.
The present
Here at RED Racing Parts we always strive to offer the best quality products apart from any outside advertising and or inflated middle man pricing.
Our goal is always to "offer quality products at fair prices".

Our Quality Control Standards at RED Racing Parts assures that our Customers receive the latest in technology from our Manufacturers.
By keeping a close relationship with them we can exchange valuable feedback that echo our expectations as well as our Customers.
The end result being state of the art products that satisfy our Customers therefor growing together to make most of your shopping experience.

RED Racing Parts is only offered exclusively on the internet, solely to reach its Customers world wide.
Currently no store location is available, all orders must be made via the website.

We offer and sell our products in any quantity.
We can accommodate the Private Owner of one motorcycle to an entire Team!
No order is too small.
We welcome Private Owners, Pilots, Teams, Distributors and Sports Associations.

Should you have any questions or concerns about your order you can contact us.
Please be assured that the RED Racing Parts qualified representative is highly experienced and a motorcycle enthusiast as yourself and can direct you to the correct way to address your motorcycle problem or if you just need a recommendation.

At RED Racing Parts we strive to offer you an increasing variety of motorcycle products.
So you can satisfy all your motorcycle needs here to save time and money.

In the rare event you receive your order and it was not to your satisfaction you will get our quality guarantee "irrespective of any reasons you can always be sure that if our products do not satisfy, we will replace or refund".
The past
In 2008, RED Racing Parts was the Technical Sponsor of Sterilgarda Go Eleven WorldSBK Team.
The bike was the Ducati 1098 RS ridden by Max Biaggi.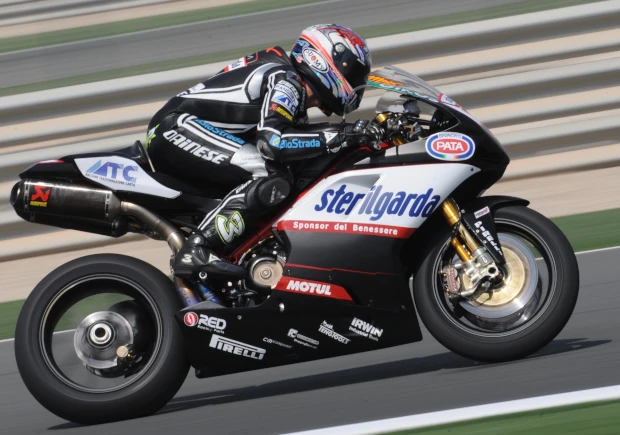 hi it arrived today and it's fine thanks a lot
R. S. | Czech Republic 2022-10-17
RED Racing Parts®™
Casella Postale 704 - 18100 Imperia (IM) - Italy
info@redracingparts.com
VAT No. IT01130260084 | REA IM-93869
Site developed by John
Copyright © 1995-2023 | All rights reserved